Background:  As the face ages, numerous consistent tissue changes occur. Skin sagging, diminishing facial volume and the development of wrinkles and folds are commonly seen. While one of the smallest structures on the face, the earlobe is not immune to these same aging changes. As the only part of the ear that has no cartilage, its skin and fat composition becomes like the rest of the aging face.
The earlobe can shows its age by becoming longer, thinner and developing wrinkles. As the earlobe loses volume, its deflated extra skin folds upon itself undergoing a metamorphosis over time like a grape to a raisin. This does not occur in everyone but is more prone to occur in women, presumably due to decades of ear ring wear.
One method of earlobe rejuvenation is injectable fillers. By filling up a deflated earlobe, its wrinkles will reduce and it will again become more plump. But this will do little for an earlobe that is already too big and has too much skin. Such earlobe enlargement may even make it look worse as it may appear more disproportionate or out of balance in size to the rest of the ear.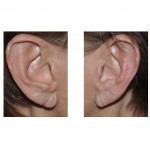 Case Study: This 63 year-old female was bothered by her aging earlobes. She had a previous facelift but now felt her earlobes did not match her face. They had become 'bigger' and more wrinkly. She felt wearing ear rings drew attention to them. Clip-on ear rings had trouble staying on and studs/posts did not stand erect in the lobe.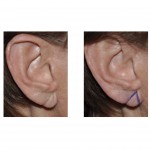 She underwent an earlobe lift procedure. A wedge of the elongated earlobes was removed preserving its facial attachment and incorporating the existing ear piercing hole. Approximately one-third of the earlobe was removed. Bringing the remaining earlobe back together provided the 'lift' resulting in a reduction of its size and the removal of its wrinkles and folds. The earlobe lift was done under local anesthesia as an office procedure, taking about 20 minutes per earlobe.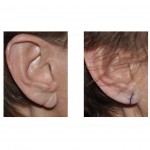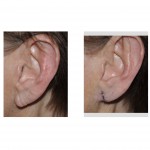 No dressings are applied and only antibiotic is applied twice daily. One can shower and wash their hair the very next day. There is no problem getting the reduced earlobes wet. While dissolveable sutures are placed on the back of the earlobe, those sutures on the front of the earlobe are removed one week later. The earlobes can be re-pierced in six weeks.
 Earlobe rejuvenation can consist of volume replacement (injectable fillers) or a 'nip and a tuck'. (earlobe lift) The choice of which one depends on the existing size of the aging earlobe.  Shrunken small earlobes due well by filling. But elongated aging earlobes do better with reduction and tightening.
Case Highlights:
1)      Aging of the earlobe occurs with an increase in size by elongation, thinning of the lobe and wrinkling. It is the only part of the ear that substantially ages and occurs to a greater degree in women.
2)      The earlobe can be rejuvenated by a lift or tuck procedure through wedge excision and reduction of size. This is a simple office procedure done under local anesthesia.
3)      Earlobe rejuvenation can be done as a stand alone procedure or as part of a more extensive facelift.
Dr. Barry Eppley
Indianapolis, Indiana
Tags: dr barry eppley, earlobe lift, earlobe rejuvenation, earlobe tuck, indianapolis, plastic surgery case study, plastic surgery of the earlobes