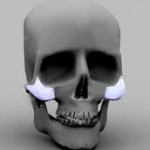 Synthetic implants are commonly used for augmentation of numerous facial bone sites for cosmetic augmentation or reconstruction of defects and asymmetries. Facial implants are available in a wide variety of styles and sizes for such areas as the cheek, orbit, chin and jaw angle, to name the most common. Most of these implants are composed of materials that allow for relatively easy shaping, trimming and otherwise custom adaptation.
But some facial cosmetic and reconstructive needs can not ideally be met by using off-the-shelf implants, no matter how they are shaped and modified. In some more uncommon cases, only a custom designed facial implant will suffice. As uncommon as the need for such implants are, they are more frequently used in reconstruction of facial defects and more rarely for cosmetic augmentation.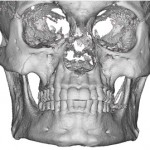 The fabrication of custom facial implants is a process that initially begins by getting a facial skeletal model of the patient. This is initially done by the patient obtaining a 3-D craniofacial CT scan done with high resolution 1mm cuts. Such a scan can be obtained at just about any CT facility today as 3-D software is commonplace. Once the scan is obtained, it is then sent to a model fabrication manufacturer. I use Medical Modeling (Golden, CO) but there are numerous other manufacturers that can create similar models. They can make a patient's model in numerous ways including an Osteoview (radiopaque) or a Clearview (translucent) model. For custom implant fabrication, I usually use an Osteoview model as the view of underlying structures such as nerve and teeth are not usually necessary and it is less expensive.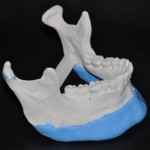 Once the patient's facial model is obtained, a mock-up of the implant is then made. This is done by sculpting it by hand on the model. At one time, I used acrylic as the modeling material but this requires grinding after being set and that makes it a more difficult fabrication process. Currently, soft modeling clay is used but it is of the type that does not dry out with extended use and can be cured by baking once the final shape is obtained. Such modern clays are much easier to use than older clay materials for this purpose.
The cured clay implant(s) is then sent to a silicone manufacturer (e.g., Implantech) for the manufacture and sterilization of the final implant(s). Currently, custom facial implants can only be made in silicone. Other implant materials, such as Medpor and Gore-Tex, have to be machined and not poured and cured into a mold made from a custom implant design. (this makes them considerably more expensive)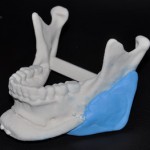 Contrary to popular perception, custom facial implants for cosmetic facial enhancement are not made magically by some computer technology. They are done by hand by traditional sculpting off of a model made by computed tomographic scanning. It is a total process that takes about 6 to 8 weeks from the time the CT scan is obtained until the actual sterile implants are in hand. I have found them to be particular useful for mandibular augmentation (e.g., vertical lengthening) which, due to its large surface area of bone, has contours that may not be able to be met by conventional preformed implant shapes.    
Dr. Barry Eppley
Indianapolis, Indiana
Tags: custom facial implant design, custom facial implants, dr barry eppley, indianapolis