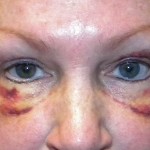 Blepharoplasty, or eyelid tuck surgery, is one of the most common and gratifying anti-aging facial surgeries. As the windows are the eyes to the soul, removing and tightening up loose skin makes them look fresher and better rested. It is a plastic surgery that usually pays great dividends for one's appearance and the perception by others.
Because blepharoplasty involves the delicate structures surrounding the eyes, patients are understandably concerned about the healing process. They usually want to know how long they will be bruised and swollen or how long they will look 'bad'. At what point will one be acceptable to be seen in public without having an operated look?
As the eyelids are very delicate, they are prone to a fair amount of swelling and bruising. Such is the nature of blepharoplasty surgery. Usually the lower eyelids will swell and bruise more than the upper eyelids. As most people have not seen such swelling and bruising, it will usually be quite impressive to them. But this abnormal appearance is quite normal and expected.
Typically, it takes a full two weeks or more to look completely normal after blepharoplasty surgery. Swelling is mainly gone by 10 to 14 days, but the final remnants of bruising on the lower eyelids may take slightly longer.
One of the ways to lessen how much bruising and swelling of the eyes that occurs after surgery is to institute the following three measures. First, take Arnica Montana supplements one week before and one week after surgery. They are very effective at lessening the amount of bruising that develops and helping it clear faster afterwards. Keep one's head elevated for the first 5 days after surgery to help control swelling. For the first 24 hours after surgery, keep the eyes iced with gel eyemasks or frozen vegetables. While these three measures won't completely eliminate all swelling and bruising, they help lessen the recovery period significantly.
Dr. Barry Eppley
Indianapolis, Indiana
Tags: blepharoplasty, dr barry eppley, eyelid surgery, indianapolis