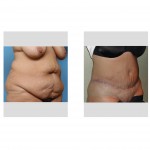 The extra skin and fat around the waistline is usually the most common concern for most extreme weight loss patients. It is the most frequently requested procedure in this patient group and is usually done first in the priority of body contouring procedures. In cases of only moderate skin excess, a more simple and traditional tummy tuck (abdominoplasty) may suffice.
Like a more typical cosmetic patient, the tummy tuck in the weight loss patient is a frontal procedure that results in a hip to hip scar. An elliptical cutout of skin and fat is done that starts low at the level of the pubic hairline and stops just above the belly button. The excision patterm looks like a horizontally shaped football. The key is that the cutout goes above the belly button, which differentiates it from a limited or mini-tummy tuck in which the cutout goes below the belly button. It is very uncommon to do a limited tummy tuck in the extreme weight loss patient. This type pf cutout pattern in a full tummy tuck results in both a low horizontal scar that extends from one hip prominence to the other but a circular scar around the newly created belly button. (umbilicus)
As part of the tummy tuck, the abdominal muscles (vertical rectus muscles) are sewn closer together to help provide further flattening of the stomach area. There is a common misconception about this part of the procedure. The actual muscles are not really sewn together but the covering of the muscles are, known as the fascia. A running vertical row of sutures, from just below the breast bone down to the pubis, is placed to create a horizontal tightening effect across the stomach . In some patients, this effect is significant while in others this muscle tightening does not make a dramatic visual flattening effect. For this reason, not every tummy tuck patient needs this part of the procedure. If not done, the amount of pain after surgery is dramatically reduced.
Every tummy tuck patient gets drain tubes placed during surgery. These drainage tubes remain for an average of 10 to 14 days after surgery. They are critical to avoid a fluid collection over the stomach area after surgery.
This relatively simple tummy tuck in the extreme weight loss or bariatric patient represents about 1/3 of the types of tummy tucks that I do for this patient population. Whether this tummy tuck version, or a more extended one is necessary, depends on the amount of extra skin and fat that the patient has.
Dr. Barry Eppley
http://www.eppleyplasticsurgery.com
Clarian North Medical Center, Carmel, Indiana
Clarian West Medical Center, Avon, Indiana
Indianapolis
Tags: abdominoplasty, Add new tag, body contouring surgery, dr barry eppley, extreme weight loss, indianapolis, tummy tuck