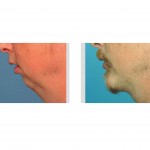 A sharply defined and tight neck is associated with a youthful and healthy appearance. Loss of a good neck angle certainly does occur with age as the neck skin loosens and jowling along the jawline develops. However, poor neck shapes and an obtuse neck angle occurs in the young as well but for different reasons. Necks with a lot of fat above the platysma muscle, with or without a short chin, creates a neck appearance that is full and ill-defined.
A very effective 'cure' for this type of neck problem is the combination procedure of chin augmentation and neck liposuction. Submental and neck liposuction can be very effective at thinning out a full neck. As the fat is removed, the skin contracts up and back above the thyroid cartilage (adam' s apple),  decreasing the wide open neck angle and creating more visible horizontal and vertical neck lines in profile.  Bringing out the chin, if short, will make the horizontal part of the neck line longer both in appearance and in actuality.
Neck liposuction and a chin implant is another example of a 'ying and yang' plastic surgery procedure. The neck angle becomes sharper and the jawline becomes longer. Each procedure alone produces an improvement, but together the effect of each is even better. This is easy to see before surgery through computer imaging. See the results of each procedure separately and then together.  You will convince yourself if one or both is better.
The other benefit of combination neck liposuction and chin augmentation  is that they are done through the same incision. Right under the chin in the submental skin crease, a small stab incision is made and the neck liposuction performed through it. The stab incision is then lengthened to about an inch through which an implant is introduced in front of and on top of the chin bone.
Dr. Barry Eppley
Indianapolis, Indiana
Tags: chin implant, dr barry eppley, indianapolis, neck liposuction