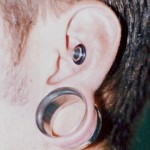 While the wearing of earrings for both women and men has a long history, the more recent phenomenon of stretching the earlobe with plug inserts is more recent. This current ear adornment statement is often referred to as gauging, although the more accurate term would be stretching.
From a plastic surgery standpoint, this is really tissue expansion of the earlobe. It is a different twist on our concept of tissue expansion in that it is done as an external method of tissue expansion as opposed to what we do in plastic surgery which is internal. (e.g., tissue expansion for breast reconstruction)
 
From a cultural and aesthetic standpoint, I can not comment on this current practice. To each his own so to speak. From a plastic surgery standpoint, however, I must say that it may have very negative long-term effects on the earlobe. This is not like wearing a piercing and simply removing it later with the tradeoff of a near negligible hole(s). This practice creates permanent damage to the earlobe by altering its shape, the quality of earlobe left, and the real possibility of significant scarring, even keloids. I am now getting request and seeing patients who want their 'gauged' earlobes reconstructed.
As you might imagine, there is a great diversity to the type of earlobe problems that stretching/gauging can cause. I have seen relatively small holes that have shrink back down to a patient with large keloid formation. In every case, however, the earlobe tissue is not really normal and can either be quite thin or thick and scarred. Just as the practice of earlobe stretching is variably done, the resultant problems if they occur are also quite diverse.
 
The reconstruction of the stretched earlobe, fortunately, is not as difficult as patient who has no earlobe. Having cut my teeth on ear reconstruction in the microtia patient, it is always better to have something to work with, even if it is not completely normal. Usually the stretched earlobe hole is opened up and the two bivalved earlobe remnants brought back together in a near straight line fashion. This is a simple procedure that can be done in the office under local anesthesia. Sometimes I will place a small V or Z at the rim of the earlobe in an attempt to avoid notching as it scars down and heals. This procedure will, in many cases, result in an earlobe that is smaller than what one had prior to the stretching experience.
 
I have had only one experience so far with true keloid formation from earlobe stretching. Keloids anywhere are very prone to recurrence and may eventually require steroid injections or even radiation in addition to surgical excision and reconstruction. Many times, even with everything we know how to do, keloids still recur. I have seen this occur even from simple earlobe piercings so I am certain stretching the earlobe will cause as many, if not more, of this problem.
 
While I can not condone the potentially deleterious practice of earlobe stretching, earlobe reconstruction can always be done and most patients will have a reasonable outcome.
 
Dr. Barry Eppley
http://www.eppleyplasticsurgery.ocom
http://www.ologyspa.com
Clarian North Medical Center, Carmel, Indiana
Clarian West Medical Center, Avon, Indiana
Indianapolis
Tags: clarian northe medical center, clarian west medical center, dr barry eppley, ear gauging, ear reconstruction, earlobe stretching, indianapolis, plastic surgery